UK Basketball team physician since 2001
UK Baseball team physician since 1998
Performed surgery on multiple current NBA, MLB, and PGA players
Georgetown College and Kentucky State University team physician
USA Basketball team physician for U-19 Team, Cairo, Egypt, 2017
US Ski and Snowboard team physician pool
Over 20 years of experience as a surgeon at UK
Fellowship trained in sports medicine and shoulder surgery
Southern Orthopaedic Association board member
Reviewer for 10 orthopaedic journals
Over 200 regional, national, and international sports medicine speaking engagements
Program Chair for Southeastern Conference Physicians' Meeting
The rotator cuff is comprised of tendons that surround the head of the humerus at the shoulder. Four muscles come together to form this tendinous structure. When the tendon tears, typically from its attachment to the humeral bone, it can lead to significant pain and/or weakness. Treatment of this problem depends upon the degree of symptoms, and the size and chronicity of the rotator cuff tear. Many patients can be improved without surgery. If surgery is necessary, rotator cuff repair is done with an arthroscopic surgery. Most patients are able to resume normal activities within 4-6 months after surgery.
Picture below shows the rotator cuff tear
Picture below shows the repaired rotator cuff.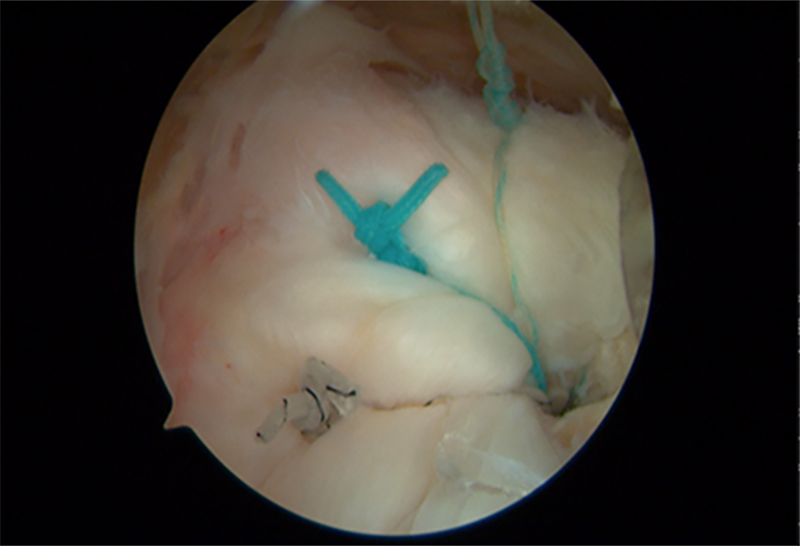 UK Basketball Team Surgeon
The star rating is a calculation based on feedback from our patients using our nationally-recognized Press Ganey Patient Satisfaction Survey. Learn more about our survey process. Responses are measured on a scale of 1 to 5 with 5 being the best score.
★★★★★
January, 2020
Dr.Mair and his staff and interns are the best orthopedic office I've ever been to. Knowledgable, friendly, professional, caring...Even if I'm in pain I look forward to my visit because I know they will do whatever can be done to improve my condition. Superior medical knowledge and interaction with me as a patient and a person.
★★★★★
December, 2019
Wonderful provider - Wonderful experience. Very comforting to be in his care.
★★★★★
September, 2019
Came to Dr. Marie (Mair) as a second opinion because I did not like the way I was treated at another practice. Dr. Marie (Mair) listened to my questions and gave me a wealth of knowledge to make an educated decision on what to do about my injury. I(I am taking this survey on my phone and it is auto correcting his name. I cannot fix the typos due to the formatting. )
ARTICLE
NEW YORK TIMES ARTICLE ON YOUTH THROWING INJURIES
By SCOTT D. MAIR
Lexington, Ky.
THE baseball playoffs are in full swing, the first game of the World Series is on Wednesday and millions of young boys will be watching, dreaming of some day playing in the big leagues.
UK Healthcare accepts most insurance